TREND ALERT: Cycling Shorts
A key trend that hit the S/S18 runway and has made a late Summer appearance is the
Cycling Shorts
or also known as the
Bike Shorts
trend. This trend first surfaced in the early 90's then reappeared in the mid 2000's and now it has made another return (
YAY
). Celebs such as Kim Kardashian, Kendall Jenner, Bella Hadid, Kourtney Kardashian, Katy Perry and Hailey Baldwin have all been seen wearing this trend and it is known as the most popular S/S18 celeb trend this Summer.
I am kicking myself in this moment of time because 10 years ago I most definitely did own two or three cycling shorts, which have seemed to secretly disappear from my wardrobe, most probably from an annual clothing clear out I do, but still, remind oneself, do not throw away possible future trendy clothes.
How to wear this trend:
Go for a Lycra cropped style cycling short, wear with XXL oversized shirts, t-shirts or knits with chunky trainers or sliders.
Or
Opt for a longer version of the lycra cycling short collaborate it with a tailored blazer and stilettos for an evening look.
The reason why this trend is really circulating the streets is the fact it is super flattering to all female silhouettes, because the material used is Lycra and the style is high-waisted it sucks you in, in all the right places. It's basically like wearing SPANX as shorts! Try this look yourself.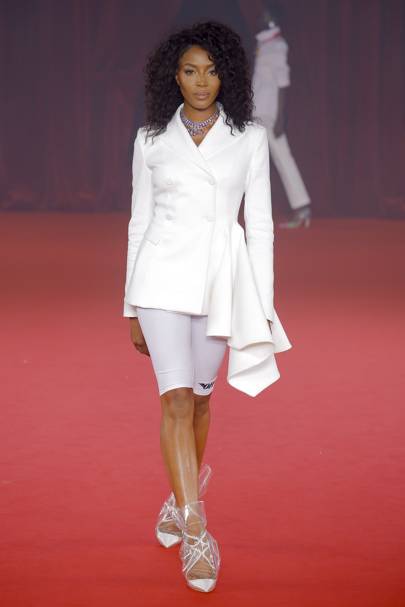 Off White
Nina Ricci
Shop the Cycling Shorts trend here: